5 Reasons Event Coordinators Love Booking James Malinchak!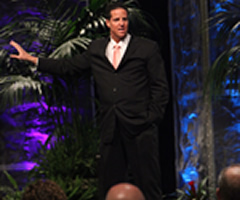 1. Dynamic Speaker
Your audience will Laugh, Learn and Be Inspired!
2. A Life-Changing Message
James mixes enthusiasm and humor with motivational stories to deliver a very high content message that will surely "Empower Your Audience to Achieve Extraordinary Results!"
3. Experienced Speaker (Makes Your Job Easier)
James has delivered more than 2,200 motivational presentations for events worldwide, was named Consummate Speaker of the Year by Sharing Ideas professional speakers' magazine, and has twice been named College Speaker of the Year. James delivers over 50 motivational presentations every year.
4. Successful Businessman
James began his sales career right out of college as a stockbroker with a major Wall Street Investment Firm and, in his very first year, was awarded Most Outstanding Performance (twice) and #1 in New Account Openings (twice). While in his twenties, James became a partner in a company that handled the investment accounts for a number of famous entertainers, authors and professional athletes. James currently owns six businesses and is the "behind-the-scenes" personal Business Marketing Consultant to for over 120 different businesses.
5. Celebrity Author
James is the author of 16 books/products and has read and researched over 3,000 books on personal and professional development. James is a Contributing Author to #1 Best-Selling Book Series, Chicken Soup for the Soul with his own personal stories published in Chicken Soup for the Teenage Soul, Chicken Soup for the Kid's Soul and Chicken Soup for the Prisoner's Soul. James is Co-Author of the Best-Seller, Chicken Soup for the College Soul.